My goodness I have been in a clothes rut and I'm tired of the same stuff I always wear. Plus, I really don't have any clothes since I had Grady. I literally go in my closet all of the time and tell Kevin how I have nothing to wear. Anyone else raising their hand right now?! I need new tops mostly. I'm pretty good on pencil skirts, dress pants (I need to share these that I love so much - machine washable!!) and jeans.
I had an hour on Saturday afternoon and I went up to Loft and tried some things on. I ended up getting this top, b
ut these are two others that I didn't see in the store that I want to order....
1. Smocked split neck shell in pink. They have this is in other colors too! It's cute to wear by itself for this summer but I can wear it under a long cardigan now. For work or going out as well. Things that are semi loose around my stomach but still shaped nicely are the name of my game these days.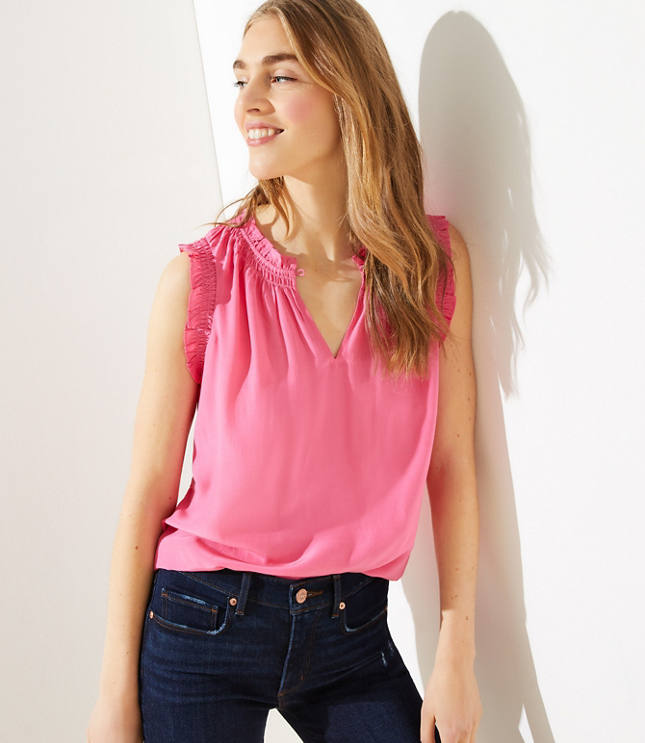 2. V-neck Puff Sleeve Blouse ($29.50) - a going out or work top that I think is super cute! I'd wear it with big earrings for going out and tuck it into a pencil skirt and wear studs for work.